I believe that music is not just a form of art and self-expression – it's a vital force that has a real effect on the world.
There is something that drives and pushes me to share my music and reach others. I love it when an audience listens, drinking in the meaning and connecting with me as the singer. 
"

Simon your voice is so scratchy but when I listen to it, it soothes me. Will you sing for me so that I can fall asleep?"
— Eve, age 9
MUSICIAN: Bio/Press release
Simon de Voil is a singer-songwriter and interspiritual minister, born and raised in Scotland but now living in rural Vermont. Simon has gained a reputation as a talented musical performer and storyteller. He pairs thoughtful and inspiring lyrics with cracking good tunes, and is known for his rich, tender vocal style. His music explores themes of the inner landscape of the soul, the enchantment of the natural world, and a personal journey to follow an unexpected calling. His unusual life and music are the focus of the award-winning documentary film 'Funny Kinda Guy.'  His unusual life and music are the focus of the award-winning documentary film 'Funny Kinda Guy.'  You can find out more about Simon and hear his music at www.simondevoil.com
MINISTER: Bio/Press release
Reverend Simon Ruth de Voil is an interfaith/interspiritual musical minister, trained to be a sacred presence outside the conventions of traditional religion. As a musician, spiritual mentor and worship leader he incorporates chant, ritual, poetry, storytelling, and mindful practice to create a space for profound connection and sacred witness.
Simon is an accomplished musician and songwriter with 20 years of experience as a performer. Originally a folk musician, he still very occasionally tours in Australia, Canada, and Scotland, as well as the US.
For the last 15 years, though, Simon's focus and calling has been in sacred music. This grew out of his work at Iona Abbey, and has since led him to provide music for worship, ceremony, and prayer in a wide variety of churches and non-religious spiritual communities. He particularly loves to create music for meditation, healing services, and rites of passage.
Simon does a lot of his work entirely online and considers his livestream channel and online community worship services to be among his most creative and vibrant musical offerings.
You can find out more about Simon and hear his music at www.simondevoil.com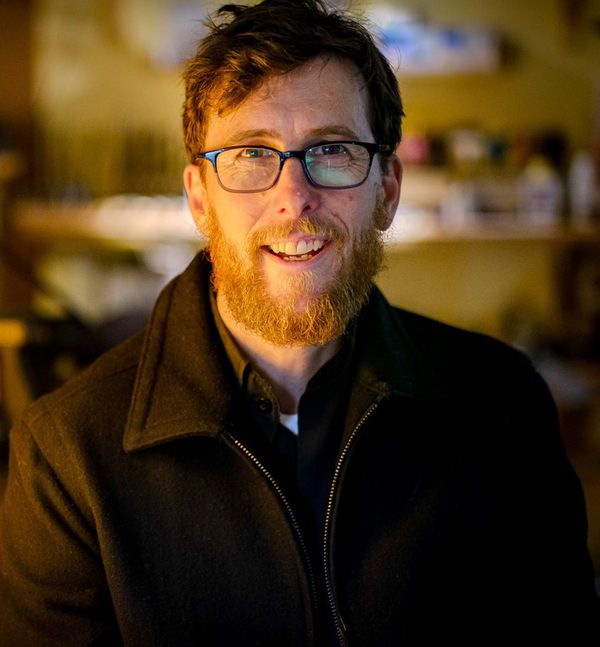 sacred musician/cantor
interSpiritual minister
internationally acclaimed singer-songwriter
public speaker & retreat leader
story teller
subject of the award-winning documentary Funny Kinda Guy